Plumbers in Westminster, CO
Your Local Plumbing Repair, Drain Cleaning and Sewer Repair Experts
24-Hour Emergency Plumbing, Sewer, & Drain Cleaning Service
Plumbing issues often happen when Westminster residents least expect them to, requiring local assistance from experts who can diagnose and repair the problem fast.
More than just a 'plumber near you', Simply Sewers is your best friend when plumbing issues arise, working quickly, affordably and reliably to get your home or business working like new again in no time.
If you need a plumber in Westminster ASAP, drop us a line or give us a call, our team is on standby and eager to lend a hand right when you need us the most.
As a family owned and operated plumbing, sewer repair and drain cleaning company, we take incredible pride in offering high-value services that improve our customers' quality of life, all at competitively affordable rates that don't hurt your wallet.
Explore our robust line of plumbing services below, or reach out to let us know about the problems you're experiencing.
$95
Sewer
Inspection
*Cannot be combined with any other offer. 
$79
Tub Drain
Cleaning
*Cannot be combined with any other offer.
$300
Off sewer line
replacement
*Cannot be combined with any other offer.
Top Rated Westminster Plumbers
Exceptional Service, Dependability, and Results
Are you in need of a fast, reliable licensed plumber in Westminster, CO? Our plumbers are backed by years of experience, education, and on the job results that speaks for itself.
We work with the best, so that you get the best from each service call scheduled with our company. Attention to detail, work done to code, and use of industry-leading best practices combined with expert hands and high-quality materials means that you can rely on the work we do for decades to come.
No matter the issue, be it simple or complex, our licensed plumbers can quickly discover the underlying cause, and offer affordable solutions to help you get back to normal as soon as possible.
Don't let a plumbing issue disrupt your life any longer. Call the pros and let us do what we do best.
How to Know When I Need a Plumber
No one likes spending money when they don't have to. Let's take a look at a few of the most common reasons why you need to call a plumber ASAP.
One or more of your faucets or appliances suddenly is without water
Your home has no water
The water pressure at your property has suddenly dropped
You notice your pipes and/or water heater sweating
Your drains are draining slower than usual, or not at all
Your toilet frequently clogs or overflows on occasion
You notice the smell of sewer gasses
Your yard has sunken in or is bright green in a specific area
The fix or issue is more than a quick DIY tutorial on YouTube can help with
Flooding, leaks or signs of water damage around pipes
Your water comes out but won't heat up
Bust or broken pipes
Toilet won't stop running
You have a sudden increase in your water bill without an increase in usage
The Best Plumbing Services in Westminster, CO
Why Choose Us
Family owned and operated company with values to match
Full services plumbing & Sewer company ready to tackle any challenge
Track record of customer satisfaction and top-rated reviews
24/7 emergency response – we're here when you need us the most
Plumbing Repairs and Replacement
From routine maintenance and troubleshooting, to updates, upgrades, remodeling or repairs, Simply Sewers can help you get the most from your home or businesses' plumbing system and appliances.
Common Plumbing Services we Tackle in Westminster Include:
Leaking, broken or cracked pipes
Leaky faucets
Leaking toilets
Clogged pipes
Pipe and plumbing repairs
Updating hardware
Kitchen and bathroom faucet repair and replacement
Garbage disposal installation or repair
Appliance installation
Water heater repair
And more…
Water Heater Replacement & Repair
Has your water heater seen better days? If your water heater is close to it's the end of its warranty or has already been causing you problems, now might be time to replace your hot water heater before you end up waking up without hot water. Fast, affordable, and energy-efficient, we can ensure you have the hot water you need for household chores, appliances and more.
Tank Water Heaters: available in a wide range of capacities to suit the needs of you and your family, including 30 gallon, 40 gallon, 50 gallon and more.
Tankless Water Heaters: Energy efficient, space-saving and offering a near instant flow of hot water, these units are increasingly popular among Westminster residents.
Sewer Repairs
Sewers are a critical component of residential and commercial plumbing systems, effectively and reliably transporting and disposing of sewer waste in a safe manner. When things go wrong, a sewer issue, be it a clog or broken pipe, can cause a real headache, disruption of life, and potentially pose a serious health hazard…not to mention the damage it can cause if left unaddressed.
As a full-service sewer inspection, repair and replacement company, we bring a wealth of expertise to each service call, helping you find the most cost-effective solution to get your system operational again.
Sewer Repair, Inspection and Replacement Services in Westminster:
Sewer line inspection and camera scoping
Sewer line repair
Sewer line replacement
Sewer cleanout
Septic system inspection
Septic system installation
Drain Cleaning
Don't let a clogged drain ruin your day or cause water damage from backed up water. Our team offers same-day emergency drain cleaning and unclogging services to get the issue resolved fast. Let our team unclog your drain using safe and effective methods that are eco-friendly and won't damage your pipes.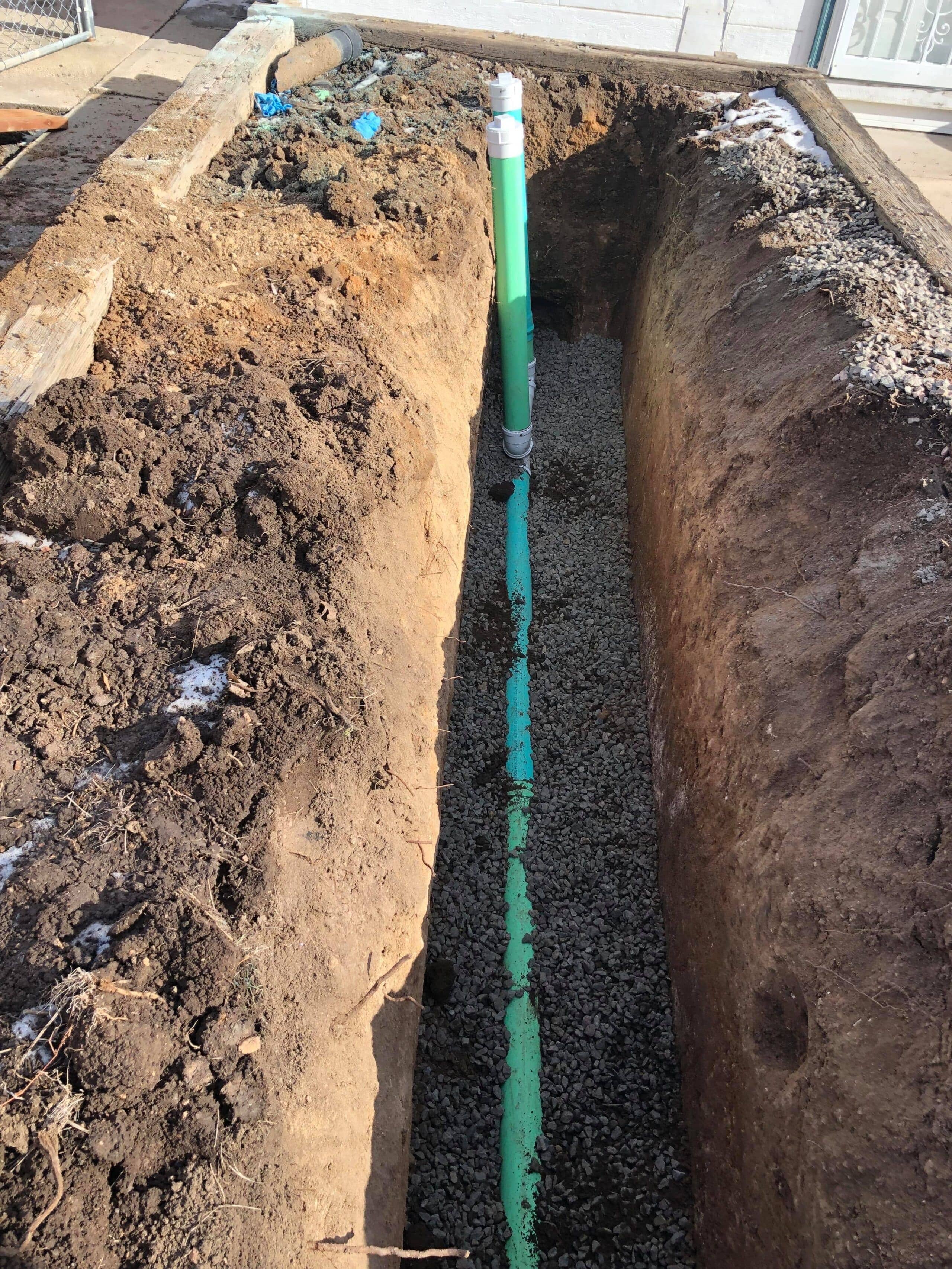 Drains We Clean and Unclog Include:
Sinks
Showers
Tubs
Kitchen sink
Laundry room sink
Basement drains
Plumbing Maintenance and Preventative Services
Sometimes, prevention is the best way to head off major issues and big repair bills. Our licensed technicians can perform routine annual or scheduled inspections to provide you with a clear and transparent overview of your plumbing, sewer or septic system. These inspections can find signs of wear or damage early on, before they result in serious malfunctions, damage and expenses.
24/7 Emergency Services in Westminster
When plumbing disasters strike, our emergency response team is just a phone call away. As a local business near you, we live and work in the same neighborhoods as you do, enabling us to be on site fast to prevent further damage to your property.
Why Call Simply Sewers?
We have built a reputation on providing fast, affordable, and reliable plumbing solutions for commercial and residential customers alike. As a family-owned and operated business, we take great pride in the work we do and in helping better the lives of those in our community.
From transparent estimates to cost-effective solutions, we're as upfront and ethical as they come. But don't trust our word for it, see what our customers have to say about our services, and why we're their 'go to' for all things plumbing in the Westminster area.
Service Area in Broomfield
Our Projects in Broomfield
A sewer replacement project in Broomfield, CO
A main drain root cleanout project in Broomfield, CO
A basement waterline repair project in Broomfield, CO
Outdoor sewer access pipe installation project in Broomfield, CO
What people are saying about us
We live in a tri-level home and we were having a sewer back-up issue in our basement shower. Called Nick first thing in the morning and he had a technician out the same day. Technician was very helpful and efficient. Would recommend them for any sewers issues you may have. Pricing is also great and I will continue to do annual clean-outs with them.
Logan Schoenbaechler
These guys are fantastic! Twice they have been able to accommodate my emergent needs when they were all ready busy. They Have been very professional , friendly , and fair . I'll recommend them to my friends .
Bradly Barney
Talor and Jacob stopped by on short notice. Took the time to diagnose and explain the problem. Fair price and great service.
Dean johnson
No high pressure sales. Tells the straight story. On-time. Quick to fix the issue. Will definitely use again, and I recommend if you are searching for a plumber with integrity. How refreshing!
Sharp Eye
This restored my believing in people. Great customer services. Thank you, Tylor, and Jacob. This company is very reasonable for the services they provide.
Dennis Regan
Tylor came out promptly he did everything we had him do everything twe needed done he was great defiantly recommend simply sewer for quick and great service.
Kevin Baker
Why Call Simply Sewers?
Simply Sewers has built a reputation on providing fast, affordable, and reliable plumbing solutions for both residential and commercial customers.
AREAS SERVED
Edgewater

Westminster

Genesee

Northglenn

Greenwood Village

Applewood

Wheat Ridge

Lookout Mountain

Thornton

Stapleton

Conifer

Cherry Hills Village

Morrison