Drain Cleaning Arvada, CO
24-Hour Emergency Plumbing, Sewer, & Drain Cleaning Service
Residential Drain Cleaning Services in Arvada, CO
Affordable and reliable drain cleaning, maintenance, inspection and more.
We know how frustrating it can be to deal with clogged or improperly working drains. From minor inconveniences to major flooding disasters, we're here to help.
Slow draining water isn't just a mess, it can lead to property damage and even impact your health. Damp, moist areas are prone to mold and are a breeding ground for dangerous bacteria and pathogens.
At the first sign of problems, don't hesitate to call. Our team is on-call 24/7 and ready to assist at a moment's notice.
24-Hour Emergency Drain Cleaning Service In Arvada
Obstructed drains are a common problem Arvada residents face, but sometimes a simple clogged pipe can turn into a nightmare fast. If your drain isn't working properly, water and/or sewage can back up into your home, causing significant damage and posing a risk to the health of you and your family.
We offer 24-hour emergency drain cleaning services in Arvada and the surrounding area. With a team 'on call' day or night, we're here right when you need us most. Our trained technicians can be on site fast, remedying the situation in no time.
$149
Sewer
Inspection
*Cannot be combined with any other offer.
$99
Drain Cleaning
Starting at $99 for a Standard Drain
*Cannot be combined with any other offer.
$300
Off sewer line
replacement
*Cannot be combined with any other offer.
Drain Cleaning
Clogged Drains
Clogged drains are more than an inconvenience, and may even lead to unsanitary conditions. The experienced Arvada plumbers at Simply Sewers will quickly diagnose the source of the clog and will provide an honest and affordable solution. Besides fixing your drains, the licensed professionals at Simply Sewers will also provide you with advice to avoid any clogging, saving you time and money in the future. Simply Sewers provides a comprehensive, 24-hour service that will help you fix any clog.
Clogged Toilet
A clogged toilet can lead to an extremely frustrating and urgent situation. The licensed professionals at Simply Sewers provide a 24-hour service that will help you resolve the problem promptly. Experienced with all kinds of clogged toilets, the Simply Sewers plumbers in Arvada will also ensure that no additional damages or messes occur during the repair. Simply Sewers is also proud to provide competitive pricing that will fit within your budget.
Clogged Tub
The licensed plumbers with Simply Sewers are equipped with the professional equipment required to quickly and accurately diagnose the source of any clog. By using a scope to reach any hard-to-reach areas in your plumbing, the technician can provide a timely fix to any clogged tub in your house. The expertise of the Arvada plumbers with Simply Sewers will also help you prevent any clogs in the future, saving you valuable time and money.
Using Professional Drain Cleaning Services
Although savvy homeowners may have the notion of unclogging pipes on their own, Arvada, CO residents often end up doing more harm than good in the process.
Taking the DIY route seems attractive at first, but it often results in:
Needing to purchase specialized tools that you may never need again
Purchasing, using and exposure to sometimes harsh and dangerous chemicals
Further compacting the clogged drain, causing additional harm and increased expense
Damage to pipes
Clogged drains are usually best left to the pros, especially if your initial efforts don't yield immediate results. Our team can quickly assess the situation, and utilize industry-grade tools, best practices and techniques to safely and effectively remove the clog and get you back to normal ASAP.
Arvada Drain Cleaning Services
Emergency drain cleaning

Residential drain cleaning

Commercial and industrial drain cleaning

Drain inspection

Drain repair

Roto rooting

Drain scope and assessment

Hydro jetting

And more…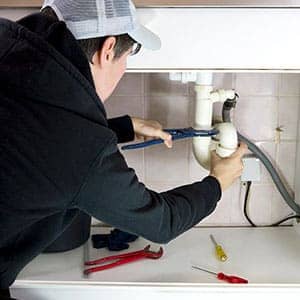 Drain Cleaning for Your Arvada, Colorado Property
Are you experiencing sluggish drains that clear slowly? Do you notice that your drain frequently becomes completely or partially clogged? Is there a foul odor coming from one or more drains in your home?
Each of these is a clear indication that you may need to hire a professional to assess your drains and clear any clogs or debris from pipes.
Our experienced plumbers will walk you through the process and explain your options so that you'll always be in the know and can make the right decision.
Contact Us Today for a Free Quote and Unbeatable Service in Arvada, Colorado
As a locally owned and operated company, we take great pride in serving the local Arvada community with superior service and unbeatable craftsmanship. Our work is guaranteed to last.
From emergency repairs, to routine inspections, maintenance and repairs, we have you covered. Call our experienced team today and get the help you need.