Fast Reliable Plumbers in Aurora CO
24-Hour Emergency Plumbing, Sewer, & Drain Cleaning Service
Aurora Plumbing Repairs and Installation
Plumbing issues are always stressful, but with quality expert service, fixes are only a call away. Simply Sewers is armed with licensed Aurora plumbers who are trained to provide a range of services from emergency drain cleaning to plumbing replacements. You can expect quick responses, same-day service and 24-hour 7 days a week emergency service. With fully-stocked trucks, the plumbers can provide fast on-site service when you need it. Simply Sewers has been serving Aurora for almost 10 years, with more than 15 years of experience in the field. This background allows highly trained technicians to address any of your problems effectively. You can expect straight-forward explanations of the best solutions without the bias of commission-based work ethics by the plumbers. Simply Sewers is a family owned and operated plumbing company. We are dedicated to offering competitive prices while providing plumbing services by professionals who will treat your home like their own.
$95
Sewer
Inspection
*Cannot be combined with any other offer. 
$99
Drain Cleaning
Starting at $99 for a Standard Drain
*Cannot be combined with any other offer.
$300
Off sewer line
replacement
*Cannot be combined with any other offer.
Plumbing Services in Aurora
Leaking Toilet
A leaking toilet is a situation that should be dealt with immediately. As with any water leak in your house, delaying the repair will only lead to increasing water damage costs. Our licensed and experienced Aurora plumbers will ensure that your leaky toilet is dealt with promptly, avoiding any unsanitary conditions. While leaky toilets that are not repaired correctly are prone to leak again, the skilled technicians at Simply Sewers will ensure that any repairs will keep your toilet working well into the future.
Leaking Faucet
A leaky faucet can spew water all over your floors, potentially causing thousands of dollars in water damages, in addition to adding to your utility bill. Our licensed Aurora plumbers will provide a quick diagnosis and solution that will help prevent any damages that may have resulted. The technicians with Simply Sewers also take a long-term approach and will inform you of any methods to prevent similar leakages in the future, saving you both time and money.
New Plumbing Fixtures
Emergency plumbing repairs can take a toll on both your mind and your wallet. By replacing your aging plumbing fixtures with new, upgraded fixtures, you can help prevent the occurrence of plumbing issues in the future.
New plumbing fixtures, just as with other utilities, will also increase the efficiency in your house. By replacing these fixtures in your house, you may see a lower water bill as well. Our Aurora plumbing experts would love to chat and walk you through the numbers on how much you could save with replacement fixtures.
Aurora Drain Cleaning Company
Clogged Drains
Ever had a stubborn shower drain that just won't unclog? Clogged drains can be a major inconvenience in your house.
Our licensed Aurora plumbing experts will help diagnose the cause of the clog and resolve the issue for you, restoring functionality to the plumbing fixture. With their 24-hour service, Simply Sewers provides a reasonably priced service that will save you both time and money.
Clogged Toilet
A backed-up toilet can be an urgent issue. With Simply Sewers' 24-hour service, you can feel comfortable in knowing that you will have your toilet's functionality back at a reasonable price. With expert knowledge of all different kinds of toilets, the skilled and licensed technicians with Simply Sewers will ensure that your toilet is dealt with without leaking biowaste around your house. When contacting Simply Sewers to unclog a toilet in Aurora, you can rest knowing that you are getting both competitive pricing and high-quality service in one package.
Clogged Tub
While not as urgent of an issue as a clogged toilet, a clogged tub can be even more frustrating to fix. Our trained and licensed Aurora plumbing and drain cleaning experts are equipped with the professional tools that allow them to diagnose the root cause of any tub drain blockage, simplifying the repair process and lowering costs. The professionals at Simply Sewers will also be able to identify any weak zones in your plumbing and may suggest repairs that will save you money and stress long-term.
Sewer Repair and Replacement
Sewer Repairs
Sewer repairs require a permit and are often very complicated. The professional and licensed plumbers with Simply Sewers in Aurora, CO have the permits and skills required to complete any required sewer repairs in a timely and cost-effective manner. The technicians with Simply Sewers are also equipped with state-of-the-art technology that will allow them to identify the true scope of the problem, saving you the cost of unnecessary repairs or replacements.
Sewer Replacement
Sooner or later, every house will require a sewer replacement. Sewer replacements, although expensive, can be more affordable than trying to salvage old sewer lines that are already failing. Simply Sewers' licensed plumbers will ensure that your sewer replacement comes with a competitive price, top-notch quality, and great service. The technicians with Simply Sewers have all the permits necessary to replace any sewers in Aurora and will ensure that any work done follows all of the local regulations of your area.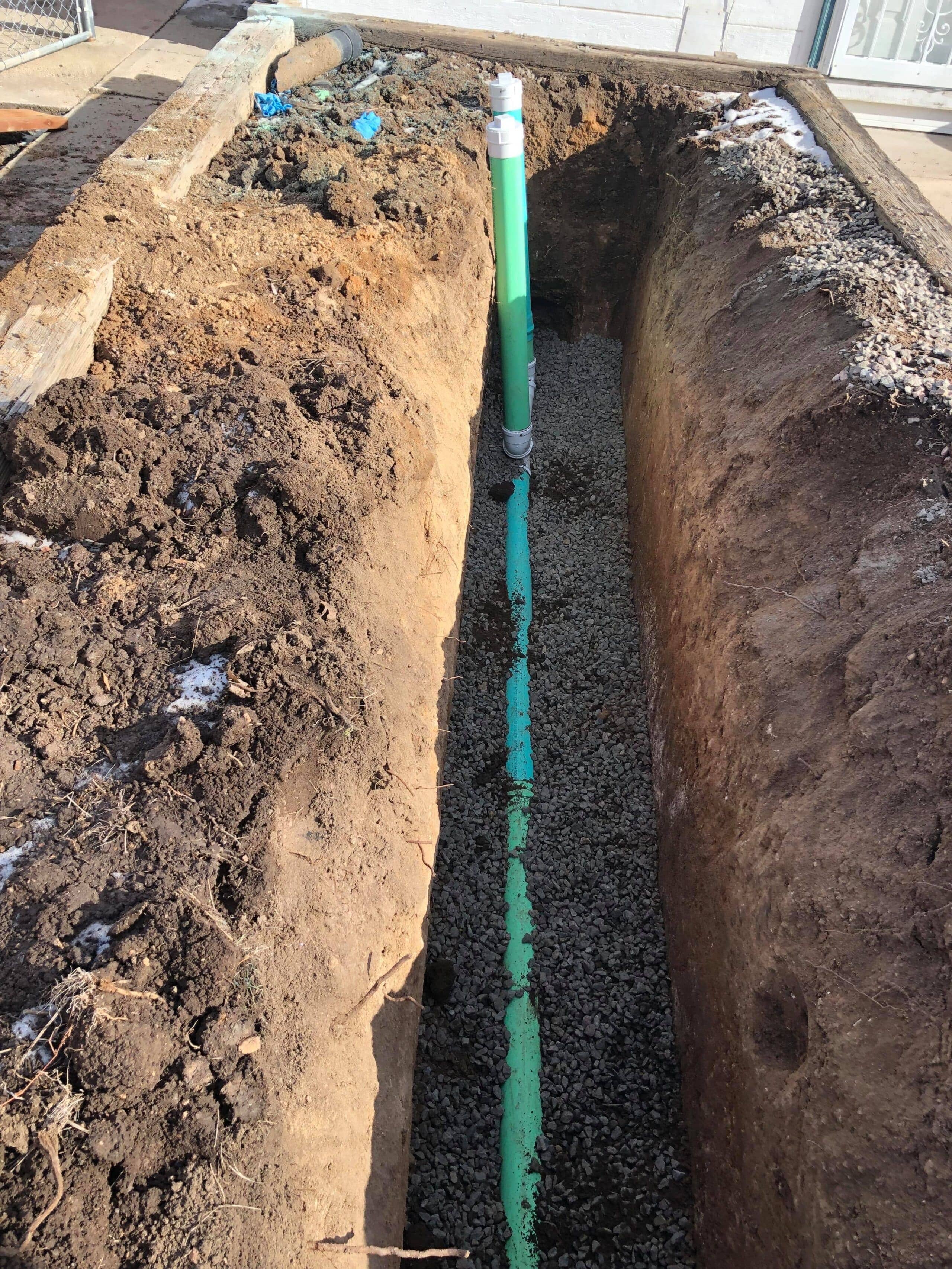 Home Buying Inspections - Sewer Cam Services - Aurora Colorado
Bringing in a plumber for a sewer cam is an important part of your home buying inspection. Failing to identify a large problem in a home's sewage system can potentially cost thousands of dollars of repairs in the future, something no new homebuyer wants to face.
In Aurora, CO, the average age of the houses is 31years old with some nearing the 50-year mark, typically a sign of potentially aging sewer lines. Waiting for a sewage leak to occur before fixing the problem can lead to an expensive and time-consuming operation, so it is often prudent to make the required replacements and repairs immediately. Understanding the conditions of the sewer pipes in a home will help better pin down the value of the house that you are looking at.
A main drain root cleanout
A basement waterline repair
Outdoor sewer access pipe installation
What people are saying about us
We live in a tri-level home and we were having a sewer back-up issue in our basement shower. Called Nick first thing in the morning and he had a technician out the same day. Technician was very helpful and efficient. Would recommend them for any sewers issues you may have. Pricing is also great and I will continue to do annual clean-outs with them.
Logan Schoenbaechler
These guys are fantastic! Twice they have been able to accommodate my emergent needs when they were all ready busy. They Have been very professional , friendly , and fair . I'll recommend them to my friends .
Bradly Barney
Talor and Jacob stopped by on short notice. Took the time to diagnose and explain the problem. Fair price and great service.
Dean johnson
No high pressure sales. Tells the straight story. On-time. Quick to fix the issue. Will definitely use again, and I recommend if you are searching for a plumber with integrity. How refreshing!
Sharp Eye
This restored my believing in people. Great customer services. Thank you, Tylor, and Jacob. This company is very reasonable for the services they provide.
Dennis Regan
Tylor came out promptly he did everything we had him do everything twe needed done he was great defiantly recommend simply sewer for quick and great service.
Kevin Baker
WHY CHOOSE SIMPLY SEWERS
Working with a full-service plumbing repair company like Simply Sewers allows homeowners to hire the experts who have the experience to work on a wide range of plumbing issues in their homes ranging from frozen pipes, replacing tubes, and handling leaks.
Simply Sewers is familiar with the plumbing nuances affecting homeowners in the Aurora, Colorado and metropolitan Denver CO area and can perform plumbing repair services within 24 hours.
The company offers competitive pricing, free estimates, and background-checked, drug-tested plumbing technicians who have the expertise to provide necessary plumbing services to local customers in the Denver, Colorado area.
Customers can contact Simply Sewers online through sending an e-mail to info@simplysewersdenver.com, or calling their telephone number at (720) 434-4106. Customers can also schedule an appointment for plumbing repair, clogged drain inspection, FaceTime estimates, or sewer repair services through the company's online scheduling page.