Plumbers in Genesee, CO
Top-Rated Plumbers Near You – Plumbing and Sewer Installation, Repair and Maintenance
24-Hour Emergency Plumbing, Sewer, & Drain Cleaning Service
Have you been searching frantically for a 'plumber near me' in Genesee or surrounding areas? You're not alone. Each year, thousands of Colorado residents find themselves in need of a licensed plumber.
From plumbing emergencies such as burst pipes or broken sewer lines, to routine maintenance, plumbing repairs and upgrades, we've got you covered.
Fast, affordable, and trustworthy, one call is all you need to find out why so many home and business owners trust our contractors to get the job done right every, single, time.
Our Licensed Plumbers are Known For:
Being friendly, courteous and professional
Thankful for your business and appreciative of you as a customer
Respectful of your home or business
Fast and efficient work without cutting corners
Affordable and transparent pricing with no surprises
Unparalleled customer service and support
Full range of plumbing solutions and capabilities for residential and commercial customers
$149
Sewer
Inspection
*Cannot be combined with any other offer.
$79
Tub Drain
Cleaning
*Cannot be combined with any other offer.
$300
Off sewer line
replacement
*Cannot be combined with any other offer.
24/7 Emergency Services in Genesee, CO
Disasters don't check in with you first to make sure it's a good time. Fact is, there's never a good time for a plumbing emergency. Each year water damage from plumbing and sewer issues cause tens of millions of dollars in damage.
In fact, according to the Insurance Information Institute, one of every 50 homeowners will file an insurance claim yearly for water damage, with the average cost totaling an eye-dropping $10,900 (yikes).
This is why acting FAST matters. Our emergency plumbing team is on call 24/7, and because we live and work in the same neighborhood you do, we can be on site quickly, stopping water from causing serious damage to homes and property.
Top-Rated Genesee Plumbers
Reliable Licensed Plumbers Committed to Excellence
We bring decades of experience to each job site, with licensed plumbers dedicated to their craft and committed to offering plumbing solutions that are reliable, affordable and durable.
Attention to detail, friendly and fast service, and never cutting corners are just a few of the hallmarks our team is known for.
When Should I Call a Plumber?
Can you tackle that plumbing issue on your own? Maybe…but is it worth it? Do you have the right tools? Training? Experience? What if something else goes wrong when you start digging into it? Are you prepared?
Fact is, there are some plumbing tasks that are akin to basic home maintenance and upkeep, easily handled with a bit of Googling or YouTubing and some basic tools. Others can be outright dangerous or put your home at risk of further damage. Not to mention, plumbing not done to code by a licensed contractor might not be covered by your homeowner's insurance.
Situations When You Might Want to Call a Licensed Plumber in Genesee
You notice a significant drop in water pressure
Worse, you go to turn on your faucet or showers and nothing comes out
One or more of your appliances (such as a washing machine or dishwasher) doesn't seem to be filling up with water…or, isn't draining out all the way.
You notice a moldy smell coming from your garbage disposal or dishwasher
You see water spots or signs of previous water damage on ceilings, walls, floors or other areas of your home
You notice pooling of water or excessive condensation around pipes
Your toilet frequently clogs or backs up
You notice a smell of sewage or rotten eggs in the home or out in the yard
One or more drains is draining slow, or not at all
Your faucet is dripping or your toilet won't stop running
The Best Plumbing Services in Genesee, CO
Why We're the Right Contractors for the Job
Lightning-fast response
Always courteous, always helpful support
Reliability you can count on
On time and on schedule
Licensed contractors and plumbing work done to code
24/7 availability for emergencies
Family values
Transparent, affordable pricing
A high customer satisfaction rating with a stellar track record of positive reviews
Plumbing Repair and Replacement
Things break. Due to wear from daily use, mechanical failure, or damage caused by pests, weather, rust and more, plumbing issues are just a normal part of homeownership.
Leaks, failing parts, clogging, and more are all common issues we repair.
Routine Plumbing Repairs Include:
Leaking pipes
Damage to plumbing
Dripping faucets
Running toilets
Clogged drains
Broken sewer lines
Clogged sewer lines
Routine Plumbing Updates, Replacement and Upgrades Include:
New faucets
Toilet installation
Bathroom installation
Piping or drain replacement
Updated plumbing hardware
Shower installation
And more…
Plumbing Maintenance and Upkeep
Regular inspections, checkups, and maintenance can reduce energy costs and water use, improve the efficiency of your home and appliances, and ensure all systems are firing on all cylinders.
We can also identify minor wear and damage, offering cost-effective solutions to repair or replace parts before a small problem develops into a major (and expensive) disaster down the road.
Water Heater Replacement & Repair
Hot water heaters generally have a lifespan somewhere between 8-15 years depending on the make and model. Between installation date and the day it fails for good, parts can wear, break, and require repair.
If your hot water heater isn't working like it used to, or if its near the end of its lifespan, we can help. Be it with repairs or replacement and installation, we'll have your home or business supplied with hot water again in no time.
Tanked Water Heaters
A popular choice for Genesee CO residents, tanked water heaters are affordable and available in a wide range of sizes to accommodate the needs of any family or business.
Common sizes include 20 gallon, 30 gallon, 40 gallon, and 50 gallon options.
Tankless Water Heaters:
Energy-efficient, tankless water heaters supply 'on demand' hot water, making them economical, eco-friendly, and space-saving.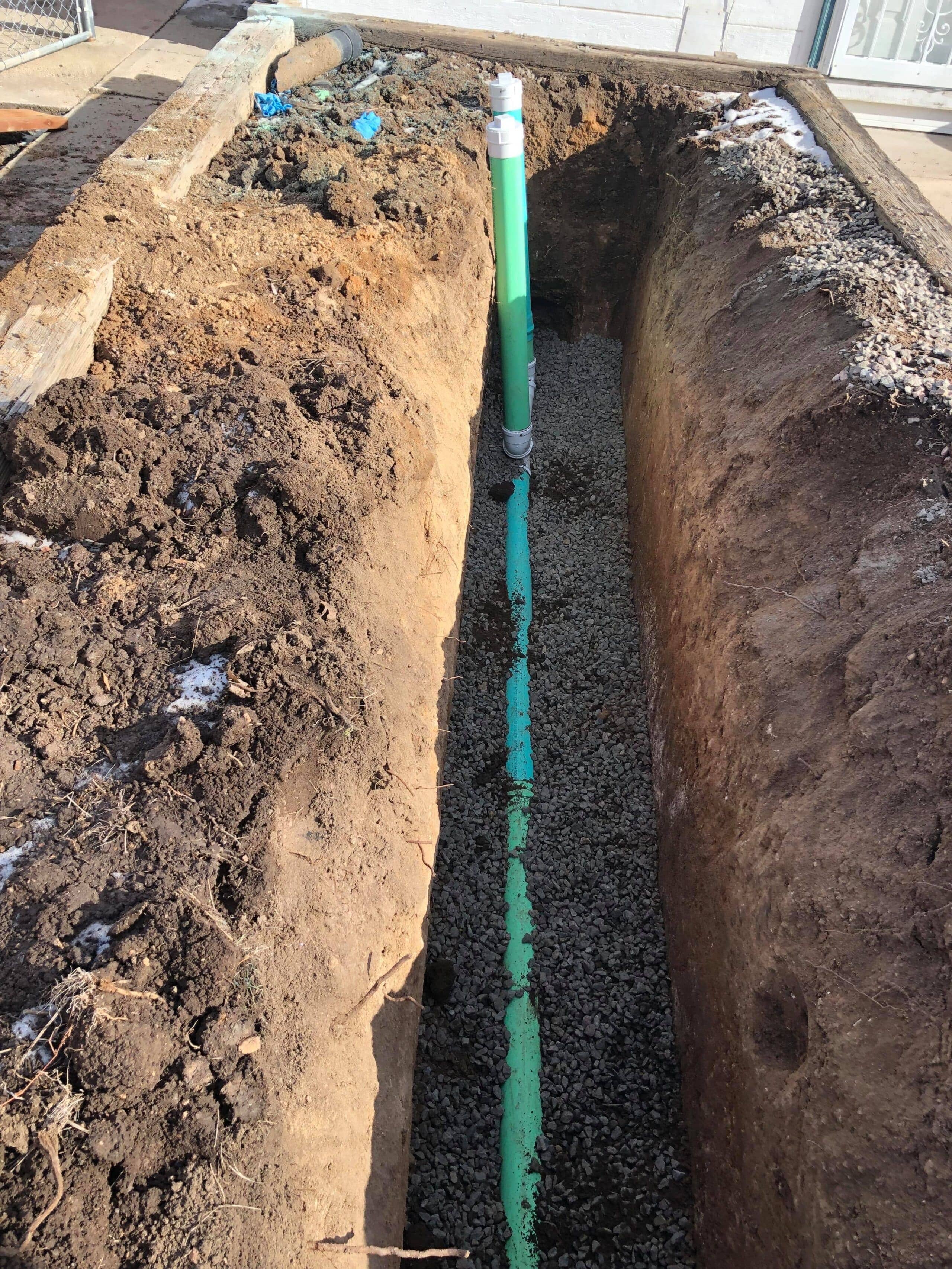 Sewer Repairs
Sewer systems are engineered to reliably dispose and shuttle waste away from your home in a safe manner. But wear, age, tree roots and more can all cause damage to sewer pipes, resulting in clogging, backed up sewage, leads and more.
Sewer Repair, Inspection and Replacement Services in Genesee:
Scoping and inspection
Cleanup and remediation
Sewer line repair and replacement
System inspection
System replacement
Drain Cleaning
Drains take little to clog, making daily use a potential risk. From accidental grease spills, to food items that just won't degrade, or shedding hair, clogs are one of the most common calls we get.
Be it your tub, shower or sink drain, we can quickly and safely remove the clog and get things back to normal fast.
Drains We Unclog Include:
Sink drains
Baths and shower drains
Kitchen drains
Washing machine drain
Basement and mud sink drains
And more…
Why Call Simply Sewers?
More than just another 'plumbing contractor near you', we take pride in offering fast, affordable, high-quality plumbing and sewer solutions to help improve your life.
Call or message today and find out why so many Genesee, CO residents trust us to handle all of their plumbing needs.
Service Area in Broomfield
Our Projects in Broomfield
A sewer replacement project in Broomfield, CO
A main drain root cleanout project in Broomfield, CO
A basement waterline repair project in Broomfield, CO
Outdoor sewer access pipe installation project in Broomfield, CO
What people are saying about us
We live in a tri-level home and we were having a sewer back-up issue in our basement shower. Called Nick first thing in the morning and he had a technician out the same day. Technician was very helpful and efficient. Would recommend them for any sewers issues you may have. Pricing is also great and I will continue to do annual clean-outs with them.
Logan Schoenbaechler
These guys are fantastic! Twice they have been able to accommodate my emergent needs when they were all ready busy. They Have been very professional , friendly , and fair . I'll recommend them to my friends .
Bradly Barney
Talor and Jacob stopped by on short notice. Took the time to diagnose and explain the problem. Fair price and great service.
Dean johnson
No high pressure sales. Tells the straight story. On-time. Quick to fix the issue. Will definitely use again, and I recommend if you are searching for a plumber with integrity. How refreshing!
Sharp Eye
This restored my believing in people. Great customer services. Thank you, Tylor, and Jacob. This company is very reasonable for the services they provide.
Dennis Regan
Tylor came out promptly he did everything we had him do everything twe needed done he was great defiantly recommend simply sewer for quick and great service.
Kevin Baker
Why Call Simply Sewers?
Simply Sewers has built a reputation on providing fast, affordable, and reliable plumbing solutions for both residential and commercial customers.
AREAS SERVED
Edgewater

Westminster

Genesee

Northglenn

Greenwood Village

Applewood

Wheat Ridge

Lookout Mountain

Thornton

Stapleton

Conifer

Cherry Hills Village

Morrison