Plumbers in Commerce City, CO
The Best Plumbers Near You – reliable repair, drain cleaning and sewer services
24-Hour Emergency Plumbing, Sewer, & Drain Cleaning Service
Local plumbing experts, licensed and experienced in handling all of your plumbing needs. Focused on high-value and efficient services, we can quickly and accurately diagnose the problem and offer cost-effective solutions to get your home or business running again in no time.
What We're Known For:
Fast and efficient repairs and service calls
Affordable and transparent pricing
Unparalleled customer service and support
Full-service range of solutions for residential and commercial customers
24/7 Emergency Services in Commerce City, CO
Our team is on standby and ready to jump into action at the first sign of trouble. Don't let water woes get you down or cause damage to your home, business and/or property. As a locally owned and operated business we're right in the neighborhood and can be on site FAST.
$95
Sewer
Inspection
*Cannot be combined with any other offer. 
$99
Drain Cleaning
Starting at $99 for a Standard Drain
*Cannot be combined with any other offer.
$300
Off sewer line
replacement
*Cannot be combined with any other offer.
Top Rated Commerce City Plumbers
Dependable Licensed Plumbers you Can Count on
Backed by decades of experience, our plumbers are dedicated to providing world-class service and unmatched craftsmanship that is up to code and built to last.
When working with us you can expect attention to detail, a clean worksite, use of industry-best practices, high-quality materials and a standard of work that far exceeds that of the competition.
How Do I Know I Need a Plumber?
No matter if you're a new or seasoned homeowner, knowing when to call a plumber and when to DIY it is a question that many residents in Commerce City struggle with.
Turns out, the answer isn't always so obvious. However, the following is a great list to use as a general guide. If you're experiencing the following or any other plumbing issues, give us a call and we'll help you figure out if you can handle it yourself or if it might be best if we took a look ourselves.
You go to turn on the water and nothing comes out (uh oh!)
One or more individual appliances doesn't seem to be getting water (such as a dishwasher or washing machine)
The water pressure seems to have suddenly dropped
Your water heater and/or pipes have a lot of moisture or condensation around them
One or more drains aren't working or draining slowly
One or more drains seems to be backing up with water
Your toilet overflows or seems to clog easily
You smell sewage gas in the house or in the yard
A portion of your grass has turned obviously bright green (could be sewer pipe leak)
An area of your yard (usually small) has sunken in without any obvious reason
The fix you thought was easy turned out to be a bit much for you to handle despite the handy YouTube tutorials, and/or you simply don't have or don't want to spend money on the needed tools
You notice pooling water, drips, leaks, or watermarks from previous leaks or damage
Your toilet won't stop running
You have an obvious leak
Why Simply Sewers is the Best Plumbing Services in Commerce City, CO
Fair and transparent prices
Fast response times
Reliable (we show up when we say)
Licensed plumbers and high-quality work
All plumbing in compliance with local codes
Family owned and operated with values to match
24/7 emergency response team
Full-service plumbing contractor including sewer repairs and replacement
A lengthy track record of satisfied customers and top ratings
Plumbing Repairs and Replacement
Remodeling, updates and upgrades, parts and appliance replacement, repairing breaks, leaks, failing parts, sewer issues and more.
Let us help you find affordable plumbing solutions to your problems.
Routine Plumbing Services Include:
Dripping faucets
Leaking pipes
Clogged drains or pipes
Pipe and plumbing damage
Updating plumbing hardware
Installation of new faucets, toilets and more
Garbage disposal repair and installation
Water heater repair and replacement
Routine maintenance and upkeep
And more…
Plumbing Maintenance and Upkeep
Preventative measures such as routine annual checkups can end up saving you big. Our licensed plumbing contractors can find small issues or the early signs of wear before a major issue rears its ugly head.
Many times, simple preventative fixes can extend the life of your plumbing parts, pipes, faucets, and more, all while giving you peace of mind and reducing the risk of water damage.
Water Heater Replacement & Repair
Hot water heaters typically last between 8-15 years depending on the warranty. Between now and then, parts can begin to wear or break down, causing issues providing hot water to your home.
If your hot water heater is having issues, or if its near the end of its lifespan, we can help.
Tanked Water Heaters: The most common and affordable type of water heater is a tanked model. Available with Energy Star certification and in a range of capacities to accommodate any family size, including 20 gallon, 30, gallon, 40 gallon and 50 gallon tanks.
Tankless Water Heaters: Easy to install, space-saving and energy-efficient, tankless water heaters provide an almost instantaneous supply of hot water on-demand.
Sewer Repairs
Out of sight and out of mind, any home or businesses' sewer system is a critical system that reliably shuttles and disposes of waste in a safe and efficient manner.
But when things go wrong, they can go really wrong, disrupting service, causing sewage leaks and backups, and more.
As a licensed sewer repair contractor we can help you with routine maintenance, troubleshooting issues, repairing damage (such as that caused by weather or roots), and replace or update aging systems.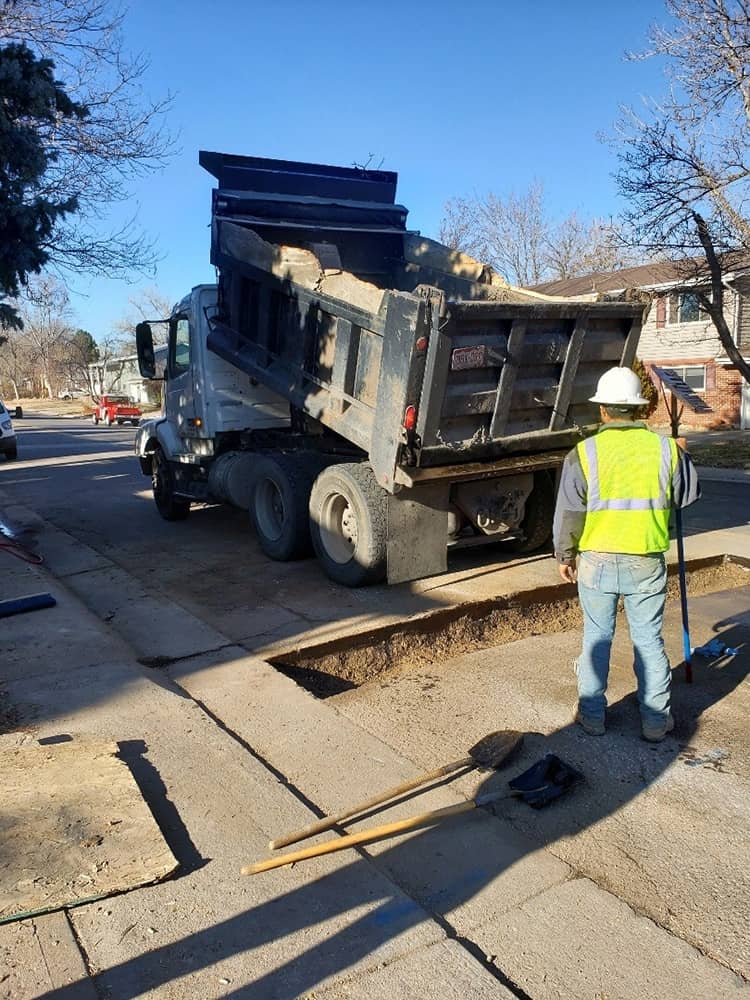 Sewer Repair, Inspection and Replacement Services in Commerce City:
Sewer scoping and inspection
Sewer line repair and replacement
Sewer cleanup and remediation
Septic system inspection
Septic system replacement
Drain Cleaning
It takes surprisingly little to clog a drain. If your is draining slow or not at all, or if you find that drain water is backing up into your sink, shower, tub or home, we can help.
We use eco-friendly, safe and effective methods to clear drains without damaging your pipes.
Drains We Unclog Include:
Baths and shower drains
Sink drains
Kitchen drains
Basement and mud sink drains
Washing machine drain
And more…
Our Projects in Commerce City
A main drain root cleanout
A basement waterline repair
Outdoor sewer access pipe installation
What people are saying about us
We live in a tri-level home and we were having a sewer back-up issue in our basement shower. Called Nick first thing in the morning and he had a technician out the same day. Technician was very helpful and efficient. Would recommend them for any sewers issues you may have. Pricing is also great and I will continue to do annual clean-outs with them.
Logan Schoenbaechler
These guys are fantastic! Twice they have been able to accommodate my emergent needs when they were all ready busy. They Have been very professional , friendly , and fair . I'll recommend them to my friends .
Bradly Barney
Talor and Jacob stopped by on short notice. Took the time to diagnose and explain the problem. Fair price and great service.
Dean johnson
No high pressure sales. Tells the straight story. On-time. Quick to fix the issue. Will definitely use again, and I recommend if you are searching for a plumber with integrity. How refreshing!
Sharp Eye
This restored my believing in people. Great customer services. Thank you, Tylor, and Jacob. This company is very reasonable for the services they provide.
Dennis Regan
Tylor came out promptly he did everything we had him do everything twe needed done he was great defiantly recommend simply sewer for quick and great service.
Kevin Baker
Why Call Simply Sewers?
Simply Sewers takes incredible pride in serving the Commerce City community, having built a reputation on fair and affordable prices, outstanding customer service, and work that stands up for years to come.
More than simply a 'plumber near you', we're a local expert in all things plumbing and sewers, licensed and experienced in handling a broad range of issues from simple to complex.
Call or message us today and find out why so many residents and businesses in Commerce City trust us to get the job done right.