Fast professional Drain Cleaning in Lakewood at great price!
Picking the right drain cleaner service is important. Simply Sewers is a local company. We are family-owned and located right here, in the Lakewood area, providing drain cleaning services for over 10 years. Simply Sewers employs only qualified technicians. All of our employees go through rigorous background checks and drug testing.
Clogged drains can be disgusting and unsanitary not to mention a terrible inconvenience. Using store-bought drain cleaners for drain cleaning can damage your pipes and leave you in worse shape than when you started, costing you more money.
We can have a highly trained technician to your house the same day as you call in most cases! Hit the button below to be connected to a live technician who can answer all of your questions!
We can save the day with Emergency Services!
Blocked or clogged drains are not only irritating but inconvenient.  Then there are instances where, if not addressed quickly, those minor issues can create big expensive problems.  Simply Sewers offers emergency drain cleaning service that won't break the bank.  We'll never take advantage of you in your time of need.
Do you have:
Clogged bathroom sink
Blocked drains
Clogged kitchen sink
Clogged bathtub
Clogged pipes
Your technician will show up quickly, 24hrs a day, ready to get started on your drain cleaning.  We understand that plumbing problems are troublesome and never convenient.  We will help you get back to your life as quickly as possible.
Simply Sewers uses the most innovative solutions available today.  We offer both drain snake and hydro jetting.  Your technician is equipped with state-of-the-art equipment, such as video camera line inspection gear.  The camera inspection takes the guesswork out of locating the problem so that we can recommend the best drain cleaning solution for your job.  It can potentially save you 1000's of dollars by identifying potential issues before they become huge problems.
Common Drain Problems
Types of Drains
Houses usually have 3 types of drains.
Fixture Drains

Found at sinks and the toilet.

Main Drain

Flows from Fixture Drains to the main line that carries waste from the house.

Sewer Drain

Flows from the Main Drain to the municipal sewer system or the property's septic system.
Any of these might be the culprit.  Clogs like to live in the turn or bend in the pipe.  You may be able to tell how bad the blockage is by determining the number of drains that are stopped up. If it's just one, the problem is probably "local" (isolated to that spot) and can be solved with a regular drain cleaning.  If it's two, the problem is a main drain clog.  If you have three or more clogged, the problem is likely at the sewer line and a drain cleaning won't fix it. In this case we recommend a sewer camera inspection.
Types of Clogs
Kitchen
Over time, clogged kitchen sinks drain slowly, then clog, as fats, soaps, grease, and detergents build up.  The pipes become increasingly narrow until little or nothing can get through. A Simply Sewers expert technician will cut through the build-up and remove the clog with a proper drain cleaning.
Bathroom
A clogged shower drain, tub drain, or a clogged bathroom sink can stop traffic in your bathroom.  Lines get filled with soap, hair, toothpaste, and grime. Toilets backed up with…
Bathrooms have their own set of problems and require their own type of drain cleaning.  Simply Sewers has the expertise, the equipment, and the training to solve all of these problems.
Floor Drains
Common in utility rooms, garages, basements, patios, and driveways; floor drains are equipped with a trap that prevents odors and gas from leaking.  When dirt and debris create a blockage, Simply Sewers can quickly clean them out and restore drainage with a simple drain cleaning job.
Outdoor Drains
Water "around" your house can be just as damaging as water "in" your house.  Your roof gutters have downspouts to direct water away from your house. These downspouts are typically connected to your city storm sewer system.  These connections can back up when debris and leaves clog them up.  Simply Sewers will clean out the downspouts and the connected pipes to restore drainage away from the home and prevent flooding.
Regular Drain Maintenance
Your home's drains are a critical component of your plumbing system and require regular maintenance via drain cleaning. If your drain system doesn't function properly, your home can't dispose of wastewater safely, efficiently, and cleanly.  At Simply Sewers, we recommend that you schedule a drain cleaning at least annually.
The Benefits
Getting your drains cleaned regularly has several benefits.  For example, a regular drain cleaning ensures that your plumbing system (pipes) is working efficiently and quickly. Having your drains cleaned regularly by a Lakewood plumbing service company like Simply Sewers will ensure that your system isn't clogged up and avoid extensive and expensive damage.
You can also extend the life of your pipes by scheduling a yearly drain cleaning. The alternative is much less pleasant.
Serving Lakewood, Colorado. Call to see if we are in your area! 720-434-4106
Drain Snaking and Hydro Jetting
Plumbing Snake
It's sometimes called an auger.  Sometimes it's called a drain snake.  Regardless of what called, it's still a tool that we bring in on a big drain cleaning job.  Basically, it is a cable encased in a long metal tube with a corkscrew auger or blades at one end. At the other end, there is a crank. The business end (blade or corkscrew) is inserted into the drain. The tech turns the crank to push the cable until it reaches the blockage. Using a bit of force will either break through the clog or attach to the clog so it could be pulled out.
A straight plumbing snake is used for sink drain cleaning while a plumbing snake with a J-bend is used for toilet bowl drain cleaning.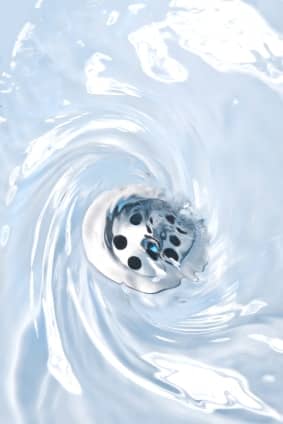 Hydro Jetting
Hydro Jet drain cleaning is a more specialized tool used by experienced plumbers.  The hydro jetting machine is about the size of a power washer.  A specific nozzle sprays powerful jets of water to clear drains and sewer lines.  HydroJet makes quick work of drain cleaning and clearing sewer lines from clogs of all types.  An expert technician harnesses the power of water to provide an environmentally friendly drain cleaning as hydro jetting does not use any harsh chemicals.
Check out our specials!
FREE ESTIMATE FOR DRAIN CLEANING OR ANY SERVICE!
Schedule Online
Same Day Drain Cleaning Service Available