Providing Sewer Repairs in Arvada, CO
24-Hour Emergency Plumbing, Sewer, & Drain Cleaning Service
Sewer Line Repairs in Arvada and Surrounding Areas
A broken sewer line ranks among the worst nightmares for Arvada area homeowners. Yet aging sewer lines cause hundreds of local area residents to experience such a nightmare each and every year.
Not only can broken sewer lines be dangerous to family and health, but they can also end up costing into the thousands if not properly addressed. If left unattended to, sewage can quickly backup into bathrooms, basements and more.
However, with proper inspections, care and routine maintenance, we can help you avoid costly surprises and prepare for any repairs or replacements before they become a major disaster.
Call our team today and schedule a free, no-obligation quote.
$149
Sewer
Inspection
*Cannot be combined with any other offer.
$99
Drain Cleaning
Starting at $99 for a Standard Drain
*Cannot be combined with any other offer.
$300
Off sewer line
replacement
*Cannot be combined with any other offer.
Sewer Replacement for Your Arvada Home
The process for replacing sewer lines on your Arvada property may take one of two approaches depending on your unique situation, budget, system, and more.
Options include both trenched and trenchless approached. The trenched approach is the most common and traditional method, digging up the old pipe and replacing it from aboveground. However, this process results in a torn-up yard and a muddy mess.
Modern replacement techniques 'snake' a new sewer pipe (often PVC) through the existing old pipe using hydraulics to break apart the old pipe and effectively replace the sewer lines without tearing up your landscape.
Signs Your Main Sewer Line Might Need Repair
Simple issues such as clogging are quite common. But how do you know when its time to call a professional?
Regular Backups or Blockages: Occasional backups aren't uncommon, but if sewage backups and the stench of rotten eggs are a regular occurrence it can indicate larger issues with the main line.
Foul Odors: Sewer lines are engineered to be airtight. If odors begin to escape the pipes that is a strong indication of a leak somewhere.
Lush Patches of Grass or Lawn Indentations: Sewage is fantastic fertilizer, with one of the most tell-tale signs of a leak being an unusually lush patch of grass. Similarly, leaks can saturate the surrounding soil, causing the ground to become soft and form an indented crater.
Sewer Issues Stink (literally), But We Can Help
If you suspect your sewer lines may be damaged or leaking, don't hesitate to reach out. We can help with inspections, repairs and replacement, getting the job done fast, efficiently and affordably.
24-Hour Emergency Residential Sewer Line Repair in Arvada, CO
Sewer emergencies often strike when we least expect them to. If you suspect a leaking, clogged or broken sewer pipe, our 'on call' team can be ready to inspect the situation and lend a hand in no time.
We're on call 24/7 for these types of situations, and ready to jump into action at a moment's notice. When things go wrong with your sewer lines, time is of the essence, and our local team can be on-site fast, preventing further damage and potentially saving you thousands of dollars in repair costs.
Older Materials Used for Sewer Pipes in Arvada Homes
A Major Culprit of Breaks and Leaks for Arvada Homeowners
Do you own an older home in or around Arvada? The sewer pipes used in older homes were often made from 'vitrified clay'. Although durable, this material is rated to last a mere 50-years under optimal conditions. Most modern sewer pipes have now been replaced with PVC.
As vitrified pipes age, they become prone to cracks, broken seals, degradation, damage from tree roots and more.
Sewer Repair and Replacement
Sewer Repairs
Sewer repairs can lead to disastrous consequences if not completed by a skilled and experienced professional. The licensed plumbers with Simply Sewers in Arvada, CO, will ensure that any sewer repairs are completed safely and effectively. The plumbers with Simply Sewers have obtained the required permits that enable them to work on sewers in the Arvada area without any hassle. An expert from Simply Sewers will both diagnose the problem and provide you with an effective solution, saving you any headache.
Sewer Replacement
Sewer replacement is a last-resort operation when a sewer repair is no longer an option. Replacing a sewer is an expensive process, but the licensed professionals with Simply Sewers will ensure that you get the most cost-efficient solution possible.
When replacing your sewers, the quality of repair is extremely important in preventing any issues in the future. The technicians with Simply Sewers have the required expertise and permits to ensure that the sewer replacement process will go as smoothly as possible.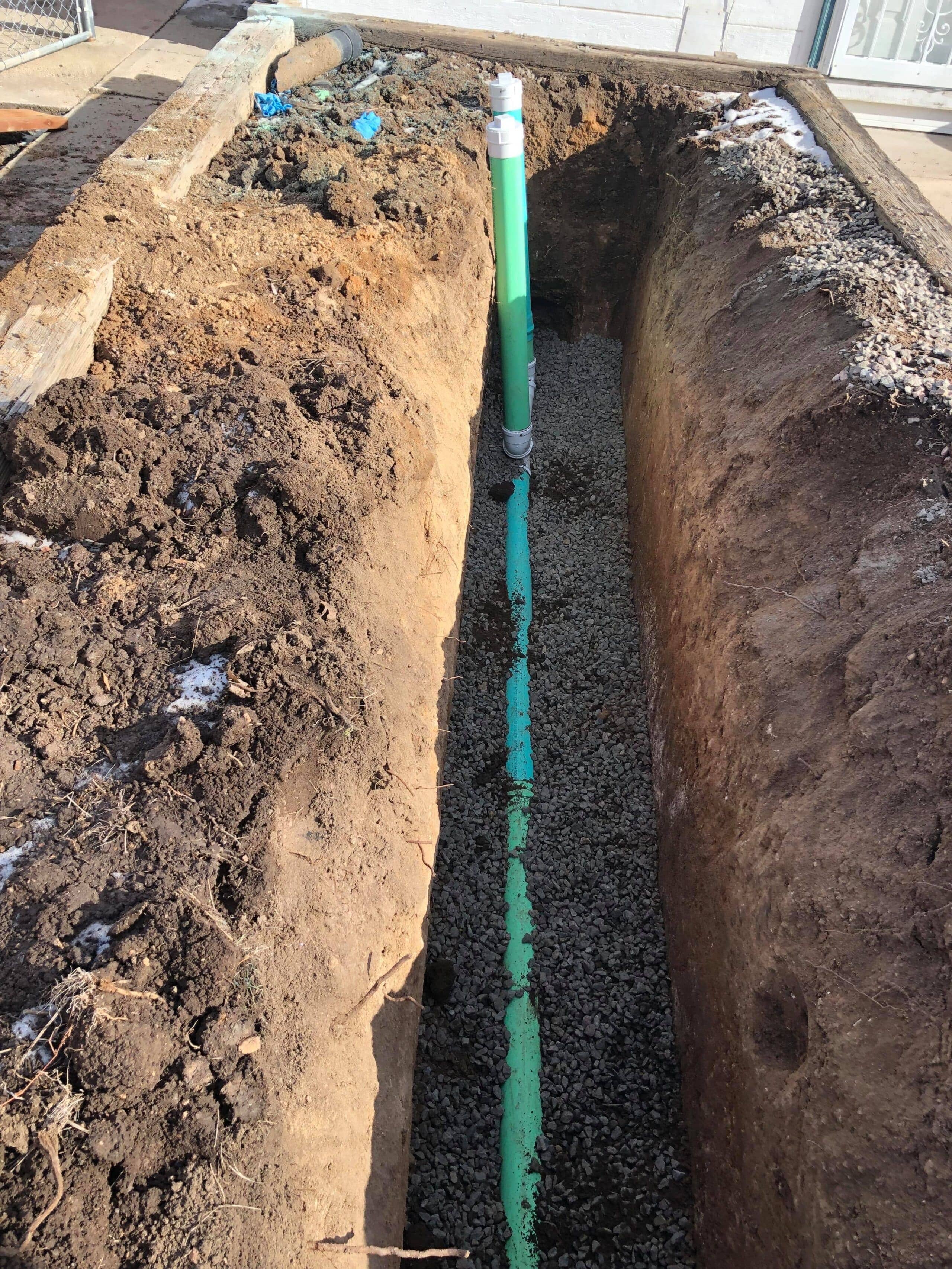 Home Buying Sewer Cam Inspections in Arvada
When buying a house, you are all-in, plumbing issues and all. The licensed plumbers with Simply Sewers in Arvada, CO will ensure that you are notified of any underlying problems with the plumbing before you pull the trigger. Understanding the scope of any potential plumbing problem can help you put a better valuation on the house and the cost of any potential repairs that may need to be made.
WHY CHOOSE SIMPLY SEWERS
Working with a full-service plumbing repair company like Simply Sewers allows homeowners to hire the experts who have the experience to work on a wide range of plumbing issues in their homes ranging from frozen pipes, replacing tubes, and handling leaks.
Simply Sewers is familiar with the plumbing nuances affecting homeowners in the Centennial, Colorado and metropolitan Denver area and can perform plumbing repair services within 24 hours.
The company offers competitive pricing, free estimates, and background-checked, drug-tested plumbing technicians who have the expertise to provide necessary plumbing services to local customers in the Denver, Colorado area.
Customers can contact Simply Sewers online through sending an e-mail to info@simplysewersdenver.com, or calling their telephone number at (720) 434-4106. Customers can also schedule an appointment for plumbing repair, clogged drain inspection, FaceTime estimates, or sewer repair services through the company's online scheduling page.