We repair and replace water heaters in Littleton and surrounding cities
Water heater problems are such a huge headache. From leaks to lacking hot water when you turn on the faucet, it all can be quite stressful. When this happens, there is no way to avoid water heater repair.
Looking for a reliable water heater repair service near you?
Get a qualified service provider who will do a quick and efficient job to troubleshoot all your water heater problems. If you are looking for a water heater service in Littleton, CO, Simply Sewers can take care of your issues. We deal with heater repair all the time, and you can be sure that your heater will get fixed quickly when you hire us.
Reliability is what you should consider. Hire someone who can get the job done.
Water heater repairs
Most often, there are signs when a water heater needs to be repaired. The most common sign is when your water heater does not provide adequate warm water, or it doesn't heat water at all. Usually, this issue could be a result of a problem with the thermostat or a build-up of sediment which blocks heat transfer.
To avoid major problems, once you notice any issues, it's best to get somebody to fix it before it's too late. You may even have to consider a replacement strategy.
Some of the standard water heater problems are:
No hot water
The pilot or thermocouple could be the issue if it is a gas water heater. For electric heaters, check the thermostat as well.
Lukewarm water
There are a few possibilities to what could be wrong. The heating elements, temperature setting, a disconnected dip tube, or sediment in the tank are the probable causes.
Smelly / Rusty water
Sometimes, your water may smell horrible, especially if using hot water. The water may even be discolored. In this case, there may be bacteria build-up or pipe corrosion.
Other issues that could warrant the need for hot water heater repair include leaks that could be due to a faulty temperature and pressure relief valve. A plumbing connection could also be the issue.
You do not have to know the cause of your hot water heater problems. During our inspection, we will run through possible causes to determine the best way to fix your water heater.
Why choose Simply Sewers?
You get 24-hour emergency assistance
Our work meets local codes
Free estimates through phone or FaceTime
Highly experienced technicians
No additional charge for emergency service
Affordable rates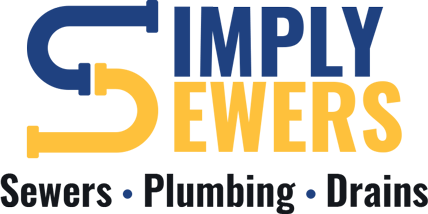 Water heater replacement
A water heater can last for about 10 or so years. Regular maintenance prolongs the lifespan of your heater. Routine repairs such as replacing pressure-relief valves are quite simple.
When you see leaks at the base of the tanks and water tank is older than eight years, it is probably time to consider replacement options.
If your heater is old, the costs of repairing may be equivalent to buying a new unit. We can inspect the unit to determine how much longer it will likely work and recommend when to replace the heater.
Sometimes, you may not be experiencing issues, but you simply need to replace the unit for a more energy efficient heater to lower monthly energy costs.
Consider Simply Sewers to get the job done. Our highly experienced personnel will advise you on what works best for your water heating needs and provide cost-effective options.
Water Tank installation
If repairing your equipment is not possible it is time to consider replacement options. For most homeowners, your first instinct is to do it yourself. However, even if you have some experience doing this job, hiring an experienced contractor can save you time and headache.
You may think that you are saving a few bucks, but you may install the new heater incorrectly. This could cause significant issues such as leaks that cause further damage to your home.  Also, you could buy the wrong heater and only realize it after lugging it from the store.
At Simply Sewers, we will get the installation done correctly and quickly.
A hot water heater replacement involves delivering the new unit, disconnecting the old one, installing the new unit, and removal of the old equipment. It also includes testing if the new heater works well.
40 and 50-gallon water heater installation cost
As we said earlier, if you are looking for a Littleton water heater repair or surrounding areas, Simply Sewers is your go-to company. We understand the importance of the installation process, and you need the right people doing it for you.
The costs for 40 and 50-gallon water heaters vary. That said, they range from $800-2,600.
A 40-gallon water heater is enough to provide hot water for 2-3 people.
A 50-gallon hot water heater will be good for 3-4 people.
We will help you select the water heater option that is best for your home and your budget by looking at your needs and your home size. Before even beginning the replacement process, we'll do a thorough home inspection to determine the cause and see if replacement is necessary.
Call Simply Sewers to get help with your hot water heater.
What people are saying about us
These guys are fantastic! Twice they have been able to accommodate my emergent needs when they were all ready busy. They Have been very professional , friendly , and fair . I'll recommend them to my friends .
Bradly Barney
Talor and Jacob stopped by on short notice. Took the time to diagnose and explain the problem. Fair price and great service.
Dean johnson
No high pressure sales. Tells the straight story. On-time. Quick to fix the issue. Will definitely use again, and I recommend if you are searching for a plumber with integrity. How refreshing!
Sharp Eye
This restored my believing in people. Great customer services. Thank you, Tylor, and Jacob. This company is very reasonable for the services they provide.
Dennis Regan