Littleton Sewer and Water Line Replacements
Aging sewer or water lines are common in Littleton and the Denver area. Water line technology has changed since these neighborhoods were built. Many homes in Littleton have clay or cement sewer line pipes which degrade easily with time and tree root systems damaging them. Sewer line replacements can be a big project but if done correctly, they will last for decades and keep your home healthy and running correctly.
Simply Sewers provides a no obligation FREE estimate. We will even do a FaceTime estimate upon request. No one beats our prices. Simply put, we are the best choice in water line replacements in Littleton.
Littleton Sewer Line Replacement and Repair
Broken, Collapsed, and Cracked Pipes
Whether your problem is big or small, let Simply Sewer be the one you call. Often we beat the price of the large sewer line replacement companies by 100s of dollars and sometimes thousands. We pull any permits needed by the city to repair your sewer line and don't over sell a job to make the project bigger.
Troubleshooting Sewer Line Replacements
How to Know If It Needs Replaced
While modern technology and improved design have reduced the need for water and sewer line replacements in recent years, the towns of Littleton and Denver installed many of their water and sewer lines decades ago. As age is the primary culprit in creating problems in home water lines, you should be aware of what signs there may be.
If you suspect you may need a repair or replacement, knowing what to look for is the key to making the right decision. So, how do you know if you need a sewer replacement?
First, it's important to know that, although often used interchangeably, water lines and sewer lines are different. A water line refers to the piping that brings you the fresh water you use to brush your teeth or shower, whereas a sewer line carries the waste that is removed from your home.
You may need a main waterline replacement if your water drains abnormally slowly or you hear your toilet making gurgling noises. Gurgling noises are often the result of water line blockages.
You may need a sewer line replacement if you notice a particularly bad stench near and around where your sewer pipes are.
If you believe your water line or sewage line needs repair, there are often a wide variety of water main replacement methods, though the best option depends on your specific situation. Our team at Simply Sewers is happy to answer any questions you might have, and assist with any water line or sewer repairs.
Why Might Main Water and Sewer Lines Need to be Replaces at your Littleton Home?
When it comes to issues involving your water or sewer line, there are often a handful of main culprits that could be causing them.
Worn Down Pipes
One of the most common reasons your water or sewer line might have problems is simply the result of age. If you live in an older area of town, you'll likely run into some pipe issues down the line.
Old pipe and lines often need to be replaced instead of repaired.
Clogged Lines and Pipes
If you notice your sink or toilet piping is becoming clogged or slow to drain, it could be the result of a blockage in the line. Not putting anything excessively large down the drain can help prevent this from happening.
Tree Roots
Believe it or not, the roots of nearby trees can sometimes interfere with underground piping, particularly sewer lines. As tree roots expand many feet underground, they can interrupt or dislodge your water or sewer lines.
Average Cost of a Sewer Line Replacement in Denver
While sewer line replacements thankfully aren't common, they can be a fairly sizable investment if not taken care of quickly and correctly. The average sewer line replacement in the local Denver area ranges anywhere from $5,000 to $10,000 and, depending on the severity, could be even more.
Sometimes a sewer line does not absolutely need to be replaced; many times, repairing the sewer line instead of replacing it, can work just as well. Repairing a sewer line is significantly cheaper than replacing it, and we always do everything we can to ensure that this the first considered course of action.
Our business is based on the trust of our customers, and we would never do anything to break that trust. Our repair technicians will always be upfront and transparent about our water and sewer line recommendations.
If it turns out that you need a water or sewer line repair, we often have a variety of deals and specials to help keep the costs of the replacement or repair fair and responsible for all budgets and financial needs. Given the importance of a working sewer and water line, we strive to make it as affordable as possible, while still providing excellent, quality repairs.
Benefits of Using Simply Sewers for Water Line Replacement
Simply Sewers has over 20 years combined experience with plumbing and sewers. Many companies know that people have no choice but to have their water lines replaced and charge thousands more than is necessary. Our customers typically save up to 25% from other quotes.
Why Choose Us?
When repairing or replacing your water and sewer lines, we know you have many options to from—so why choose us?
Free Estimates - We always provide 100 percent free estimates and are transparent about our pricing. We never charge for learning more about your situation.
We Are Compliant with All Permit Regulations - Following the laws and regulations of water and sewer lines is essential, and we have all the required permits and training needed to perform our repairs and replacements safely and successfully.
Save Big - Replacing or repairing your piping should be affordable for everyone. Our customers often see thousands in savings compared to our competitors.
Licensed Plumbers - All our plumbers are fully licensed and put through a rigorous hiring process to ensure you are served by the best in the business.
Fast and Reliable - Our team works around the clock to ensure that, if you need a repair or replacement, we are there for you no matter when you need us!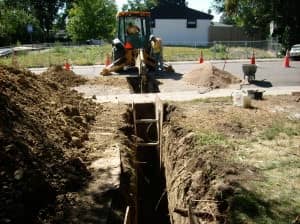 Reasons for Sewer Line Replacement
There are a variety of reasons why replacing your water line may be necessary. Not unlike all other parts of your home's plumbing system, water lines will wear over time. Lines wear due to:
Avoiding or Repairing Main Breaks
Corrosion
Ground Movement due to Temperature Change
Root Intrusion
Aging or Inferior Pipe
Improving Water Quality
You may also need to re-route or replace a water line if you are planning on expansion or renovation. Whatever your water line replacement needs are, Simply Sewers provides quality service at affordable prices.
Littleton Sewer Replacement Frequently Asked Questions
Is sewer line replacement covered by homeowner's insurance?
Whether your sewer line replacement is covered by insurance is dependent on your insurance policy. In most cases, homeowner's insurance won't cover the damages for pipes that crack due to lack of maintenance. However, in the situation, the cause of your sewer lines' damage stems from poor workmanship or due to flaws in your home's foundation, your chances for being covered are higher.
How much does it cost to replace a sewer line?
The cost to replace a sewer line depends on the extent of the damage, the company you choose to hire for the replacement, and how many feet of the line needs to be replaced. Considering these factors: the average cost is about $4,000 and for jobs that require more line to replace or have a wider scope of damage, costs may reach up to $12,000. With our company, we provide a free estimate for total costs and replacements needed. Simply access our form here: https://www.simplysewersdenver.com/schedule/
How are sewer lines replaced?
Conventionally, sewer lines are replaced by digging a trench and directly fixing/replacing the damaged line. However, this method can be invasive and also create a mess for your house's landscaping depending on the extent of the damage. At Simply Sewers, we strive to provide the most efficient and convenient services possible with our trenchless sewer line replacement option—non-invasive, cost-saving in the long run, and best of all, no mess.
How many years does a sewer line last?
The lifespan of your average sewer line is dependent on its build, its materials, and the workmanship when it was installed. Typically, the average sewer line is supposed to last roughly a lifetime-about 50 to 100 years.
Is it my city's responsibility to replace my sewer line?
It is the homeowner's responsibility to replace the sewer line of their home. As the city sewer line only taps into your home's sewage system, in the situation your home's sewer line extends into the street, it is still your responsibility to repair it as well as repave any sections of street that must be teared up to replace/fix the sewer line. As everyone has different circumstances, be sure to check with your city's specific ordinances before hiring a company.
What people are saying about us
Tyler & David were great - professional, thorough, quick & reasonably priced. We've used Simply Sewers several times & have always been very pleased. A solid, locally owned business.
- Janet Burnham
Taylor was so great! He had my drain fixed so quick and gave me a lot of useful advice to keep the drain cleaned out in the future. Great guy! Reasonable price too. Highly recommend this company.
- Rhonda Guess
150% satisfied!! Very patient, friendly, and knowledgeable. Fair pricing and most important trustworthy. Definitely went above and beyond! Thank you!
- Lisa Whitaker
We had a great experience with Simply Sewers this week. We called them to seek a second opinion regarding our sewer line and were impressed with their responsiveness and expertise. After coming out to do a consult, they were able to schedule us for same-day servicing! Their prices are fair, their input is honest, and they work hard. They will be our first call in the future! Thanks Nick and Tylor!
- Gretchen Stulock
Fixed problem with kitchen sink backing up in downstairs shower. They were both very professional and friendly and knowledgeable right away of what needed to be done to fix the problem I'd been having for almost 6 years after several other businesses came out and only gave me very expensive options. I will definitely be calling Nick and Tylor again for any future needs.
- Cari Carter
This was the second time I have had these guys out. Nick and Tylor were awesome. Had a backup in my basement and they got the problem taken care of professionally and efficiently. I would definitely recommend this company I've had nothing but great experiences with them
- Kyle Calkins
Littleton Neighborhoods and Zip Codes We Serve
Schedule Online
Same Day Service Available